Our Commercial Sink Strainer
Where to Install The Drain Strainer™
The Drain Strainer™ line of commercial sink drain products serve as an excellent food solid separator that your sinks flow into to protect your drains and grease trap from clogging. Our restaurant sink drain products replace traditional kitchen drain strainers, sink accessories and restaurant drain parts. These eliminate the need to repair leaky or smelly garbage disposal units.
The Drain Strainer™ Installation Instructions
To decide which Drain Strainer™ product works best for your commercial kitchen, restaurant, or bar, you first have to determine what type of drain cleaning or straining problem you're solving.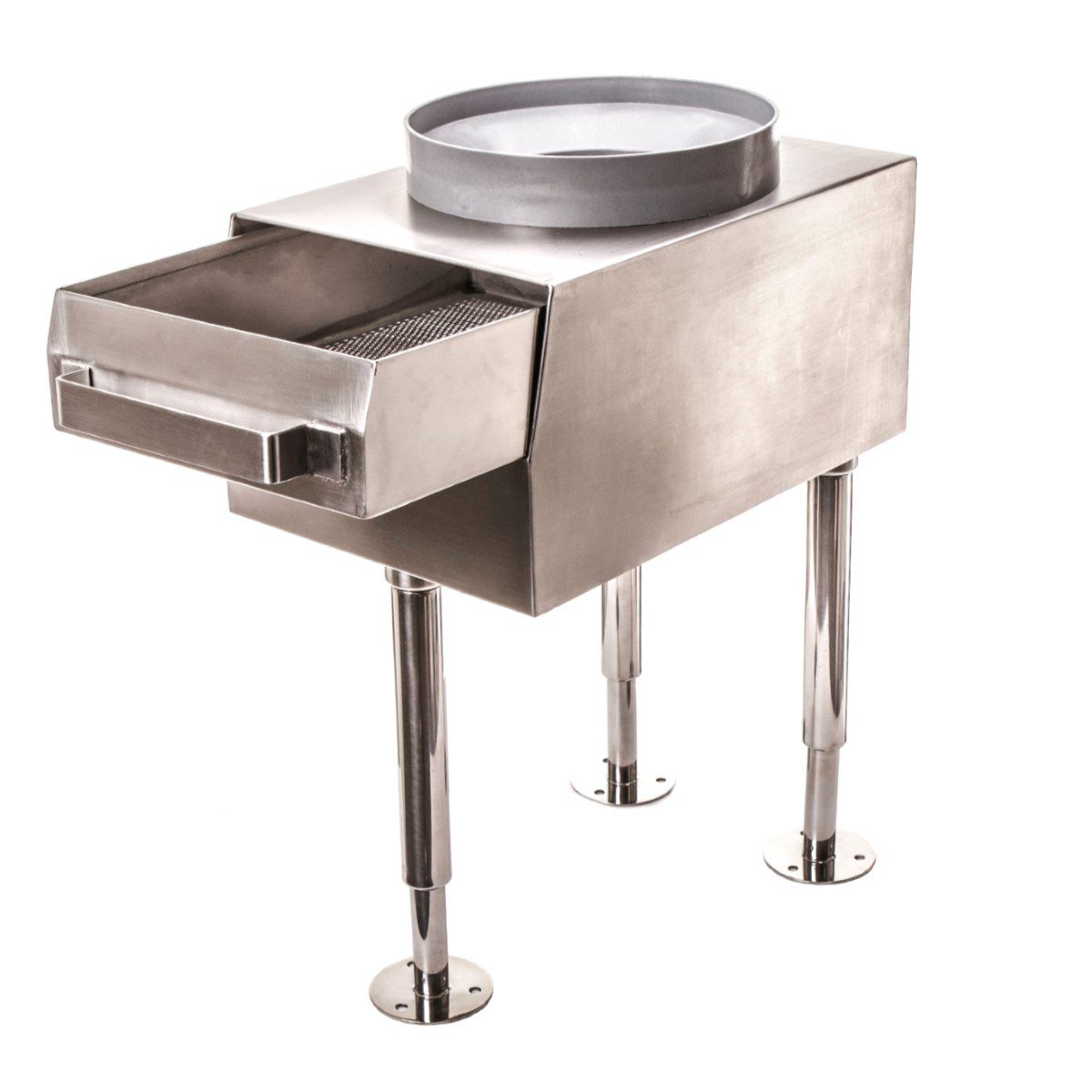 Are you cleaning grease traps too often because they keep getting clogged with food particles? Are your floor drains backing up too often? Do you need to replace a defective commercial garbage disposal unit? Are your bar sinks getting clogged with lemons and straws? There are many drain straining and cleaning problems you may be faced with depending on your commercial operation.
Next, you'll need to examine how your commercial kitchen draining system is set up. Where are your sinks and where are your drains? How will the water flow into The Drain Strainer™ and where will it go after you've removed the food particles with your strainer drawer?
Let Us Answer Your Questions
If you need our advice, we're here to help. We use Google Voice for our phone system, so you can call, text or send us pictures via your cell phone, or you can send us an e-mail with more detailed information and attach digital pictures of your commercial kitchen. Our experienced drain clearing design team will work directly with you to determine which solution works best for your operation. See our "Contact Us" page for how to reach us.
Our company was founded and is still operated by a former restaurant owner, so you can rest assured that any recommendations we provide are what we'd do if it was our own commercial kitchen. We've actually advised some potential clients that they may not need The Drain Strainer™, since their operation was already designed in an efficient manner. Depending on how your kitchen is set up, you might be able to re-plumb your sinks to drain into your dish machine's catch tray and use that for your drain strainer solution.
We're confident that we gain more customers by always giving honest answers and great customer service -- we focus on building long term relationships with clients rather than trying to maximize our sales from any individual transaction. While every situation is unique, the three main uses for The Drain Strainer™ are as a food solid separator to protect grease traps and floor and wall drains from getting clogged, to replace a defective commercial garbage disposal as a commercial disposal alternative and to filter bar and hand sinks. These pages detail how each of those installations are usually handled: