No 3-Compartment Sink Clogs
Commercial kitchen operators face issues with their 3 compartment sinks getting clogged with food solids. Their first attempt to open the drain back up is using a plunger. If that won't work, then they'll try pouring a drain cleaner like Drano down the sink. And finally, if that won't do the trick, then they'll take their plastic drainpipes apart to remove the clog.
To prevent their commercial sinks from clogging some restaurant owners will add screens inside their stainless sinks to prevent the pipes from clogging with food debris. The good news is that stops the food from going down the pipes, but it also stops the water from draining out of their sinks, so their employees eventually remove those screens and you're right back where you started.
A better solution is to prevent that food debris from going down your pipes in the first place with The Drain Strainer. Our strainer drawer installs underneath the sink and it removes the food debris while still allowing the water to pass through so your sinks still drain quickly without clogging the pipes.
The Drain Strainer™ - Watch This Animation - Restaurant Garbage Disposal Alternative
Commercial Sink Clogs Create Bottlenecks
Commercial kitchens come in all shapes and sizes. The chefs, prep cooks, dishwashers and other team members all have to work together to keep things running smoothly. While the commercial kitchens may vary, there is one common problem that arises with just about every commercial sink: clogged drains.
Much of the hardware designed to eliminate this all-too-common problem seems to just replace it with new ones. Adding a conventional screen inside your 3 compartment sink can be extremely frustrating. Although they stop food scraps and other kitchen waste from entering the pipes, they also prevent water from draining properly. This only creates a new messy and needlessly time-consuming problem that needs to be solved.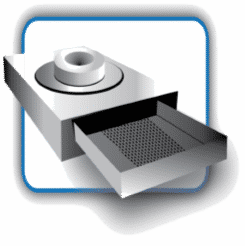 The Drain Strainer™ not only captures food solids and prevents your sinks from clogging, but our solid separator also is an excellent commercial garbage disposal alternative that is less expensive than repairing or replacing a defective commercial garbage disposal.
A Better Commercial Disposer Solution
The Drain Strainer™ doesn't require water or electricity to operate and there are no moving parts (motors, ball bearings, etc.) that may wear out and need to be replaced in the future.  There aren't seals that eventually begin to leak or cause strange smells in your kitchen area.  Your employees won't accidentally grind anything up.  No more mangled silverware or potential risk of serious injury.  See our "What It Is" page for a full description of how our professional drain solution works.
Not only can you install our commercial kitchen and restaurant drainage system for less than the cost of repairing a restaurant garbage disposal leaking water from the bottom or replacing a defective motor that hums, but it is also a superior system because you prevent the food debris from ever entering your sewer system. Visit our "Replace Commercial Disposal" page to see our video of an actual installation of our drain straining solution that replaced a defective commercial disposal at a fraction of the cost of repairing it.
Every restaurant sink sees its fair share of unintended food waste, plastic straws, napkins, and other debris clogging their drains. Kitchen workers shouldn't have to choose between dealing with poorly draining sinks and risking clogged pipes. After all, there is a better solution.
The Drain Strainer™ functions separately from the kitchen drain itself. It can be easily installed as an independent fixture to allow everything going down any drain to be filtered through our strainer drawer. This avoids the need for inconvenient strainers inside the sink. Our strainer drawer filters food debris without sacrificing adequate plumbing protection. Our units can be installed for just about any commercial drain application. Many commercial kitchen owners give little thought to drains that aren't a direct part of their dish station. However, a mop sink can just as easily cause frustrating wastewater back-ups. Floor sinks can get clogged, often leading to potentially dangerous messes and potential slip and fall injuries.
There is no excuse for putting up with sub-par equipment when one simple solution can be implemented to avoid all of these issues. Find out more about commercial-grade drainage solutions to discover a simple, permanent solution for clogged drains for your commercial kitchen.
If your commercial garbage disposal repair estimate is too high, consider replacing it for the last time with our professional drain cleaner solution - The Drain Strainer™.
Visit our "How To Order" page to get yours today.